Same Day Stockport Removal Boxes
Stockport removal boxes testimonial: "We are delighted with the crockery and glassware boxes, what a great idea." J Holden, Stockport SK2 5UJ
Stockport home movers can receive same day delivery of our trade standard removal boxes. We supply professional movers packaging materials to home movers in our area only. All our boxes are strong double wall, exactly as those used by major removal and shipping companies. Images of double wall corrugated board can be seen on this website along with a full explanation of why the removal box specifications we supply are the established trade standard.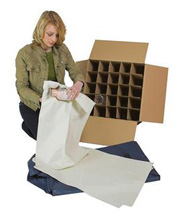 Our home movers packaging range includes: crockery and glass protection boxes, wardrobe boxes, discounted movers packs, strong bond tape, bubble wrap, furniture covers, mattress bags, removal blankets, stretch wrap, general packing paper, tissue and corrugated paper.
We only supply the material shown on this website; we do not send substitute material claiming that our advertised products are out of stock. No such clause appears in our terms and conditions and therefore our customers have complete assurance they will only receive the material shown on this website.
All our boxes are printed with fragile and handle with care messages. On the base of every box is an illustration of the export packer's box sealing method, this is a trade standard method of creating a secure tamper evident box seal. We also print packing and handling advice on a top section of every regular packing box.
With every twelfth removal box we give each customer a free roll of strong bond tape. We do this to ensure customers avoid the poor quality tapes on sale in many high street shops and do-it-yourself outlets.
Order values for removal boxes over twenty five pounds will be delivered free to Stockport home movers. Place your order by phone now and agree a daytime, evening or weekend delivery time. – Packing up your home will take far longer than you anticipate, so do not delay place your order today.
Everyday of the week, advertising brings in the smaller percentage of our business. Most Stockport residents reading the content of this website will say who are these people and can I trust them? So without recommendation and repeat custom we would not survive. To date we have never received one word of dissatisfaction from the very large number of customers we supply each year with removal boxes. However, if our products fail to meet your expectations we will give you a full refund providing our products remain unused and undamaged.