Moving Boxes - Same Day Delivery
We deliver removals trade moving boxes to home movers in Liverpool, Manchester, Warrington, Runcorn and Wirral at agreed times. All our moving boxes are manufactured from strong double wall corrugated cardboard and are proportioned for easy handling. Trade moving boxes have related sizes to ensure they can be stacked securely in removal vehicles, shipping containers or storage areas. Our medium glassware and crockery moving box can be confidently stacked on top of our large tea chest size moving box. The purchaser can be assured that the weight of the crockery and glassware will be transferred down through the walls of the large tea chest size moving box and not onto its contents due to both boxes have the same length and width.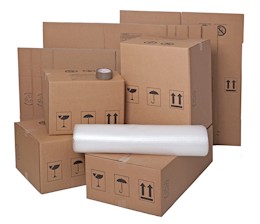 See our Moving Packs
If the removals trade chose to use boxes that had unrelated sizes, then the space in removal vehicles could not be used efficiently. An array of different sized boxes that overhung or under hung each other would very quickly tumble into a disorganised heap. This of course would result in damage to the other goods in the van as well as the contents of the boxes.
If your home is in Liverpool, Manchester, Stockport, Warrington, Runcorn, Widnes, Wigan, Chester, Northwich, Altrincham, Knutsford, Ellesmere Port or the Wirral, then we will deliver to you when you are home. Just call 0800 587 7307 and place your order over the phone. We will agree a one hour delivery slot with you. Choose a daytime, evening or weekend delivery at an agreed time. - If required, we may deliver the day you place your order or the following day.
Don't delay, call 0800 587 7307 and place your moving box order today. – Satisfaction guaranteed or your money back – Material must remain unused and undamaged, please see our terms and conditions.