Same Day Stockport Moving Boxes
A Stockport moving boxes testimonial: "Our next door neighbour recommended you and we have not been disappointed." Angus Smallwood, StocKport SK4 3AT
Stockport customers can place orders for moving boxes in the morning and take delivery later in the day. Our strong double wall moving and transport boxes match the specification used by the UK's major removal and shipping companies. We do not offer lightweight single wall boxes to home movers. A detailed explanation of double wall can be seen on this website.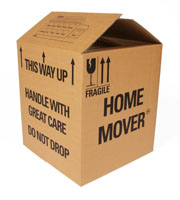 Our range of home movers packaging materials includes: wardrobe boxes, crockery and glass packing boxes, reduced price packs, bubble wrap, anti-static bubble wrap, tape, mattress bags, settee covers, general packing paper, tissue, furniture blankets and polystyrene chips.
You will find the product information on this website to be very detailed. Nothing is hidden or omitted. We show people with products to help you judge scale. All box dimensions are shown as internal and the capacity of each container is expressed in cubic feet and metric litres. Every regular packing box has a room locator diagram printed on one flap. We also include packing instructions and a diagram showing the correct way to tape your boxes.
All moving boxes are printed with handle with care and fragile symbols. With every dozen boxes we give a roll of best quality full adhesion tape. A handling and packing advice sheet detailing some surprising facts about packaging materials is also given to every customer.
In relation to value ( key for our Stockport clients), bulky packaging is very costly to ship to customers who live at a distance. We therefore specialise in the supply of home movers packaging to local customers only. In this way we can give exceptional value and service to the home movers in our area.
To ensure our moving boxes are not weakened by moisture absorption, we always incorporate a strong Kraft moisture resistant paper on the outside. Kraft paper can be likened to the manila envelope being used to carry important documents to your door in the rain. The envelope is wet but the documents remain dry. Four recycled papers are bonded to the outer Kraft paper to makeup the internal areas of the box.
Repeat custom or recommendation brings 70% of our custom in the Stockport area. During the eight years we have been supplying home movers packaging and moving boxes, we have never had one word of dissatisfaction. However, if you are not completely satisfied, we offer a money back guarantee providing our products remain unused and undamaged.