Manchester Moving Boxes
A Manchester moving boxes testimonial: "Box Works, your removal pack is excellent and your polite, courteous staff are a joy to deal with. We will be calling on you again."                                               Greg Poulish, Manchester M4 6AP
We provide daytime, evening or weekend deliveries of Moving Boxes to Manchester home movers.
Manchester customers can place an order for moving boxes today and receive them today. We supply professional movers packaging materials direct to home movers within our area. View china and glass packing boxes, hanging garment boxes, furniture protection covers, wrapping papers, bubble wrap, tape and stretch film on our delivery vehicle and add to your order if you wish.
Our materials are manufactured in large quantities and supplied to self storage companies, removal groups, local authorities and home movers. The economies we achieve are reflected in our exceptionally low prices.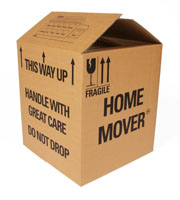 Every box we supply is double wall. On the pages of this website we show photographs of twin wall construction and do our best to explain why major removal and shipping companies adopt this specification as a trade standard. Prior to receiving our material, customers invariably underestimate the size of our boxes. To try to help people make a judgement, we detail box capacities in cubic feet and metric litres. If you would like to make a comparison, walk into any DIY store and witness their range of lightweight plastic boxes with capacities shown of 20 to perhaps 50 litres and then compare that to our 106 litre Tea Chest size box.
Moving Boxes customers in Manchester who order twelve boxes Moving Boxes receive a free roll of top quality full adhesion tape. The export packers taping method is printed on every standard packing box we supply. Also, as you will witness from the images shown on this site, all of our boxes are fully printed with fragile and handle with care messages. Handling and packing advice is also printed on the top of every regular packing box.
We have been involved in the manufacture and supply of packaging for thirty years. To some degree, you can witness our experience and knowledge in the details shown on this website. We have tried to make our offer clear; to detail the scale and structure of our products and to explain why they are trade standard materials and also how they are used.
Throughout the years we have never knowingly had a disappointed customer. In fact seventy per cent of our custom arrives through repeat business or recommendation. However, if our products fail to meet your expectations; we guarantee you a speedy refund, providing our materials remain unused and undamaged. So for Moving Boxes in Manchester call us now!